Hello and welcome! My name is Kyle Beckstrom and I am the owner of Madison Home Inspection LLC.  I have always had a love for carpentry, woodworking, and home building. I began taking woodworking lessons at age 12 and have continued building custom furniture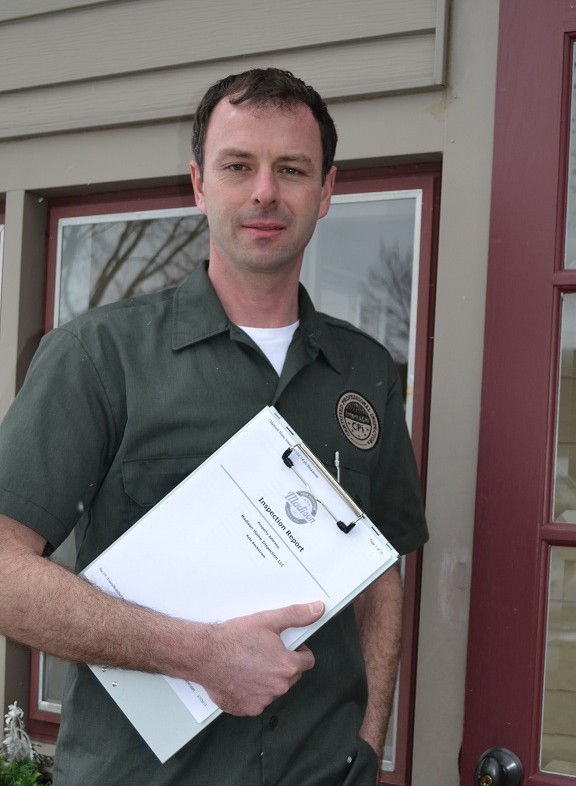 ever since. My passion evolved into framing and finish carpentry in high school when I was hired to help build  a log cabin. I have since worked on many home projects mostly with a focus on finish carpentry. College prepared me for a career as a Flight Instructor, Certified Aircraft Mechanic, and Commercial Airline Pilot. In my last airline job I held the position of Pilot / First Officer on the Airbus 320 flying to vacation destinations for Apple Vacations. Sadly, this marked the end 11 years of Customer Service experience in the airline industry when my airline, USA 3000 (owned by Apple Vacations) decided to close their doors. At that point I decided to spend more time with my wife and two kids, the youngest who was 3 years old at the time. In 2009 I formed a construction and remodeling company that purchased homes in need of repair, fixed them, and re-sold them. But due to the unstable nature of the housing market at the time, I decided to seek a career with more stability. In keeping true with my passion for homes, I came to the realization that Home Inspection is a perfect fit! All of my experiences had come full circle. The theories of operation of aircraft systems very much parallel the systems of a house whether it be plumbing, heating, electrical, or even structural. Home Inspection training was a nice "refresher course" to my existing systems knowledge. I have spent years in aviation, the most safety-conscious industry in existence, monitoring systems for defects and abnormalities for the purpose of safety. It takes a keen eye to find those defects and abnormalities that lead to unsafe situations. And rest assured, this inspector has that keen eye.
As a graduate one of the nation's top two home inspector curriculums, The American Home Inspector Training Institute has well prepared me to thoroughly inspect your home. It is my intent to use my knowledge of your home's systems, my keen eye for detail, my goal of outstanding customer service, and my adherence to the strictest Standards of Practice and Code of Ethics in the industry to deliver you the highest quality home inspection report in the entire SC Wisconsin area.
Feel free to email me at madisonhomeinspectionllc@gmail.com. I can also be reached via phone at (608) 395-9689 . Please understand I may be on an inspection and unable to talk immediately. Therefore, I have made it easy for you to book your own inspection now on the main page of this site.